What to expect for your photo shoot and beyond
My photography studio in Robina (Australia Gold Coast suburb) is comfortable, well-equipped and is a relaxing environment to come and visit, for both you and your dog(s).
When we spend time together in my studio, we become fast friends, bonding over a common love of dogs; specifically your dog(s).
Scroll down and you'll get to know what it's like to work with me. I can't wait to meet you and your pup(s)!
We'll have a 'getting to know you' chat, and I'll ask a lot of questions about your dog(s). Age, breed, who do they love, if they are a rescue, if your dog in good health (or is it a tribute session) who is coming to the shoot, etc.
I'll get a feel for the artwork you'd love and I'll take the booking fee over the phone.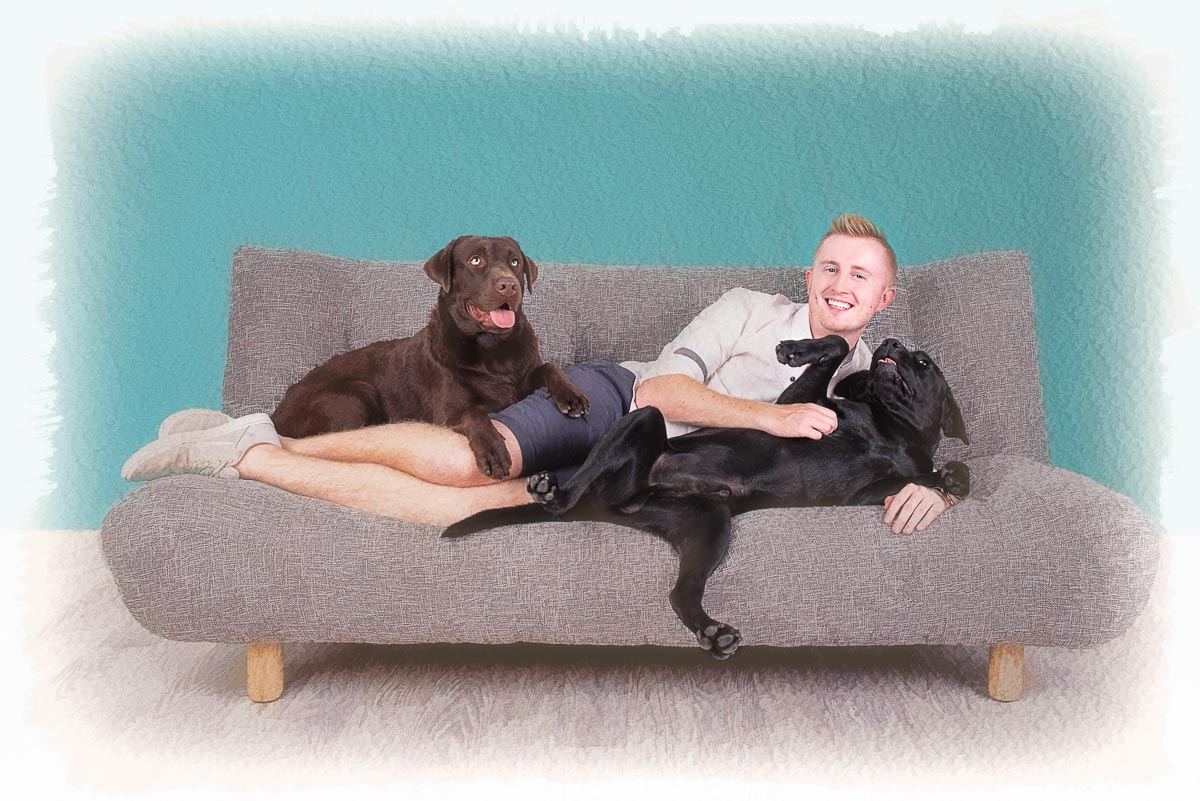 We schedule a time and date for your shoot that works well for everyone involved. Because sometimes it can be hard to corral all parties involved in the shoot, I do my best to be flexible in terms of days and times.
Shoots are available on weekdays, all Saturdays and some Sundays by request.
If your pups are popular, be sure to check their calendars too to make sure they are free!
This is the fun part for you and your dog(s)! You bring everyone you'd like included in the shoot (adults, kids, dogs, even cats!) and we shoot for 1 to 2 hours depending on the age of the dog(s) and how many are at the shoot. 
On arrival to my studio the dogs' leads and collars come off.
I finish setting up lights and props and get everyone settled in (basically let the dog sniff the whole studio) and select toys from the basket.
I start with action shots to get some energy out of the dogs. We play fetch or I get the you to play tug-a-war or even dance around with your dog(s).
I show you a photo or two on the back of my camera. (I promise you'll squeal!)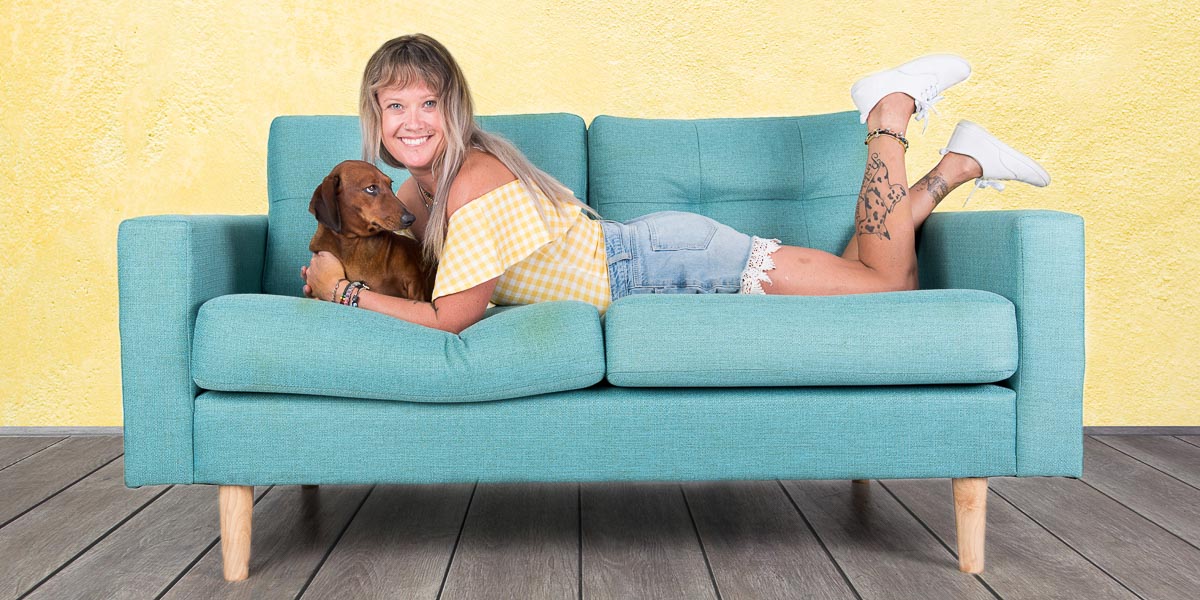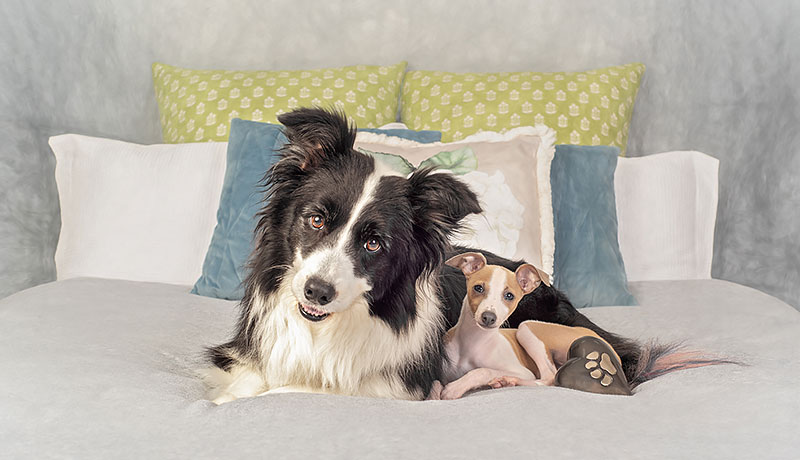 For families and couples I start with the whole group and I usually have a running sheet so nobody misses their opportunity to be photographed with their dog (also each relationship is different which is important to capture)
We take of breaks in between shots because we ask a lot of the dogs and it can become confusing for them.  So if we stop and start its all just a game.
Puppies sleep a lot so we have to wait for them to wake. Senior dogs sleep too but their shoots are quicker because they are generally more relaxed and chill to work with. 
I have different props and you get to choose which ones we include in your shoot. Or no props at all if you prefer!
I encourage clients to bring along anything that they want to incorporate into their photos, eg blanket, toys, hats (although I'm not that photographer that dresses up dogs). I also encourage people to bring along images in frames of dogs that have passed away and the can also bring an urn if they want to include their dogs that have passed away. 
Whilst I set up for one-on-one portraits (or the connection shots) I have you take your dog(s) out for a walk and a pee break. (Dog models need breaks too!)
I finish up with the single portraits of the dogs. That way they are nice and relaxed by that point.
At the end of the session I confirm the day and time of your reveal session and I show you my product packages so you can start getting excited about the end result!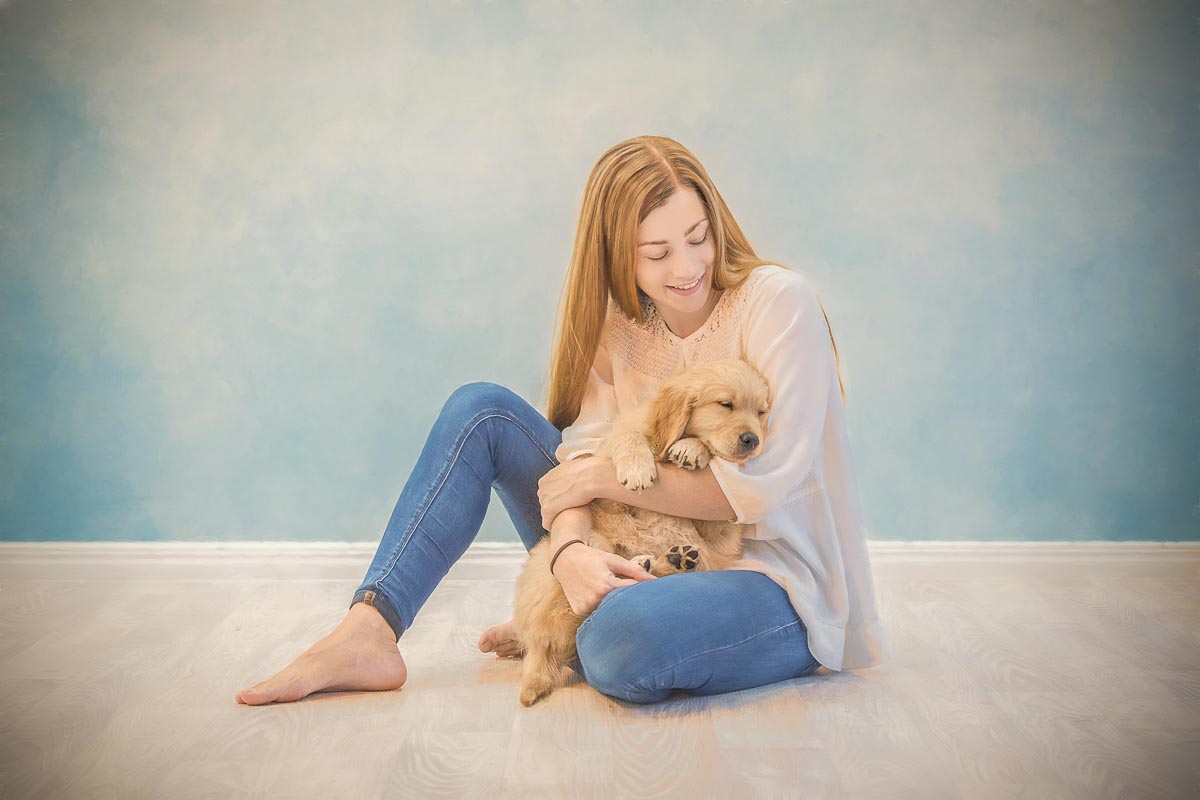 After the shoot I work my magic in Photoshop, making sure your photos look as stunning as possible before preparing them to share with you.
My goal is that the first time you see your photos, you laugh, "awww", and cry tears of joy.
I guarantee you there will be many photos that you fall in love with from your shoot!
Reveal & Ordering Session
When the photos are ready for you to view, you will return to my home for the big reveal. This is when you fall in love with the photos and we make decisions together on how you can best display them.
At the reveal you'll have a chance to look at samples of artwork in my gallery and I'll offer you coffee (my favorite!). 
We'll sit down in the lounge area to watch a slideshow accompanied by music of the fully edited images from your photo session.
Warning- you might cry happy tears at this point. Don't worry I have tissues at the ready!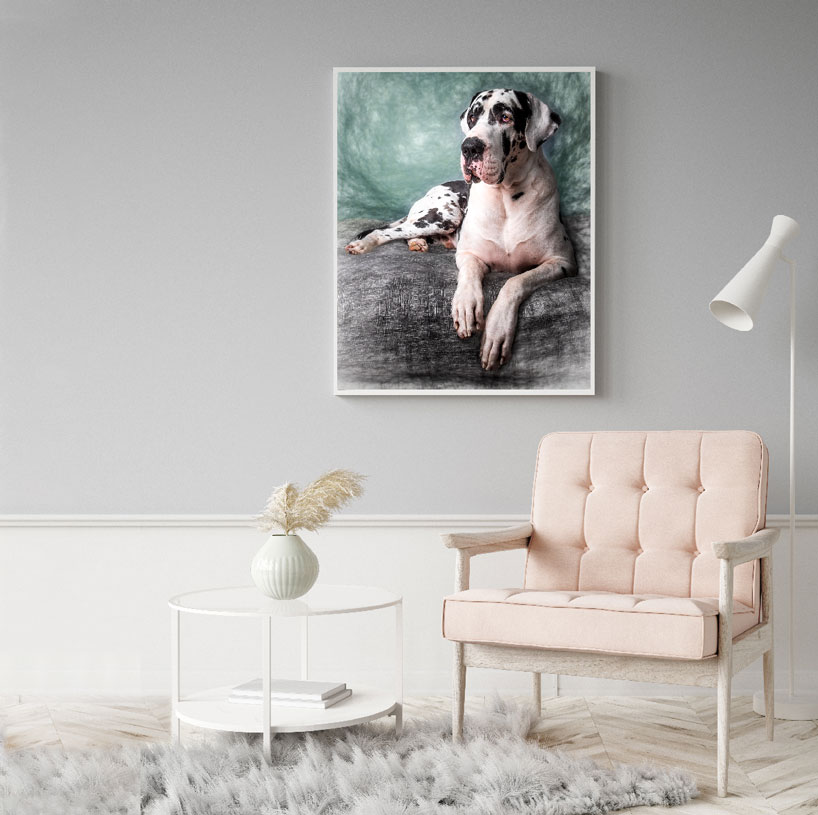 I'll then put the proof prints on the big table for you to pick up and sort through. We'll then work out what artwork will work best in your home and together we make some final decisions. I will guide you and provide my input but you'll get no hard sales from me.
The is your ordering/purchasing session and all artwork is paid for at this session either in full or by Payright payment plan.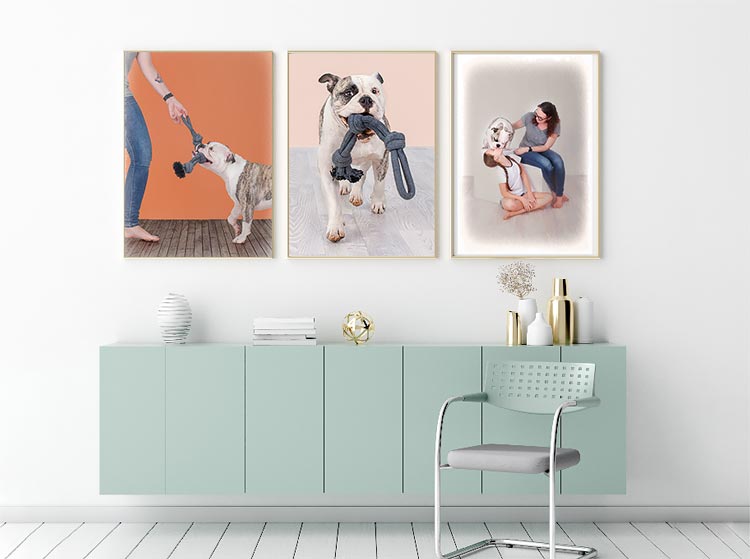 After your reveal session and you have placed your order for your art, I place my own orders with my printers and framers.
Although it can be hard to wait for your special art pieces, I do my best not to rush this part of the process, because I want my printers and framers to pay the same attention to detail that I do.
Depending on how busy my suppliers are I usually have your art to you within 14 days.  
After you receive your art you get to display it in your favorite areas of your home, where you can enjoy it for many years to come! 
Let Me Tell Your Dog's Story
The life you share together. The activities you enjoy. The unbreakable bond you hold dear.
All of these are immensely deserving of being captured in beautiful photos that will forever bring you right back to this place and time. A place and time filled with unconditional love.
CALL

For real!
I truly love chatting with people on the phone. Especially dog people.
Don't be shy. Give me a ring!
WRITE
Reach out to me through my contact page, where you'll be able to submit a contact form that will notify me that I have an inquiry.
I love receiving inquiries!
Also acceptable:
Singing telegram
Skywriting
Mailing an old-fashioned letter
Address for sending letters:
16 Ballyliffen Court, Robina